Prof. Stepan Ya. Kuchmiy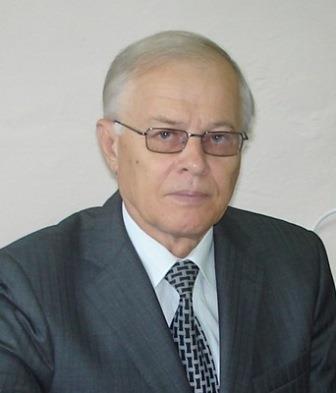 Prof. Stepan Ya. Kuchmiy
CURRENT POSITION:
Doctor of Sciences (Chem.), Professor, Corresponding Member of the National Academy of Sciences of Ukraine

Head of the Department of Photochemistry

Pisarzhevsky Institute of Physical Chemistry of National Academy of Sciences of Ukrainian
CONTACTS:
E-mail: kuchmiy@inphyschem-nas.kiev.ua; stephan@ukr.net
Phone: +38(044)265 1190; +38(097)483 9807
31 Nauki Prospect, Kyiv, 03028, Ukraine
RESEARCH INTERESTS:
photochemistry, photocatalysis
MEMBER OF EDITORIAL BOARDS:
Theoretical and Experimental Chemistry

Chemistry, Physics and Technology of Surface
AWARDS, HONORS:
L.V. Pysarzhevsky Award of NAS of Ukraine (2005)
SELECTED PUBLICATIONS:
Гродзюк Г.Я., Швалагин В.В., Андрюшина Н.С., Панасюк Я.В., Коржак А.В.,Кучмий С.Я.,Скорик М.А. Нанокомпозиты нитрида углерода сослоистыми ниобатами – фотокатализаторы выделения водорода из водных растворов органических кислот поддействием видимого света // Теорет. и эксперим. химия. – 2018. – 54, № 2. – С. 90-97.

RaevskayaA., PanasiukV., KorzhakG., StroyukO., KuchmiyS.,DzhaganV., ZahnD. Photocatalytic H2 production from aqueous solutions of hydrazine and its derivatives in the presence of nitric-acid-activated graphitic carbon nitride // Catal. Today. – 2017. –284. – P. 229-235.

GrodziukG.Ya., Shcherban N.D., Shvalagin V.V., Korzhak A.V., Andryushina N.S., Skoryk M.A., Kuchmiy S.Ya. Photocatalytic activity of nanostructured composites based on layer edniobate sand C3N4 in the hydrogene volution reaction from electrondonorsolutions under visible light // Int. J. Hydrogen Energy. – 2017. – 42, N 38. – P. 24108-24116.

Строюк А.Л., Кучмий С.Я.Полупроводниковые фотокаталитические системы для восстановительной конверсии CO2 и N2 (обзор) // Теорет. и эксперим. химия. – 2017. – 53, № 6. – С. 337-359.

Karachevtseva L., Kuchmii S., Lytvynenko O., Sapelnikova O.,Stronska O., Wang Bo, Kartel M.Light-emitting structures of CdS nanocrystals in oxidized macroporous silicon//Appl. Surf.Scie. – 2016. – 388. – P. 288–293.

StroyukO.L.,KuchmiyS.Ya.Semiconductor-based photocatalytic systems for solar-light-driven water splitting and hydrogen evolution: fundamentals, state-of-the-art and perspectives // Photocatalysis: fundamentals, applications and prospects / Еd. by Margaret Howard. - Nova Science Publishers, Inc., New York. – 2015. –Р. 31-84.

Kozytskiy A.V., Stroyuk O.L., KuchmiyS.Ya.Inorganic photoelectrochemical solar cells based on nanocrystallineZnO/ZnSe and ZnO/CuSeheterostructures // Catal. Today. – 2014. –230. - P. 227-233.