Oleksandr Yu. Semchuk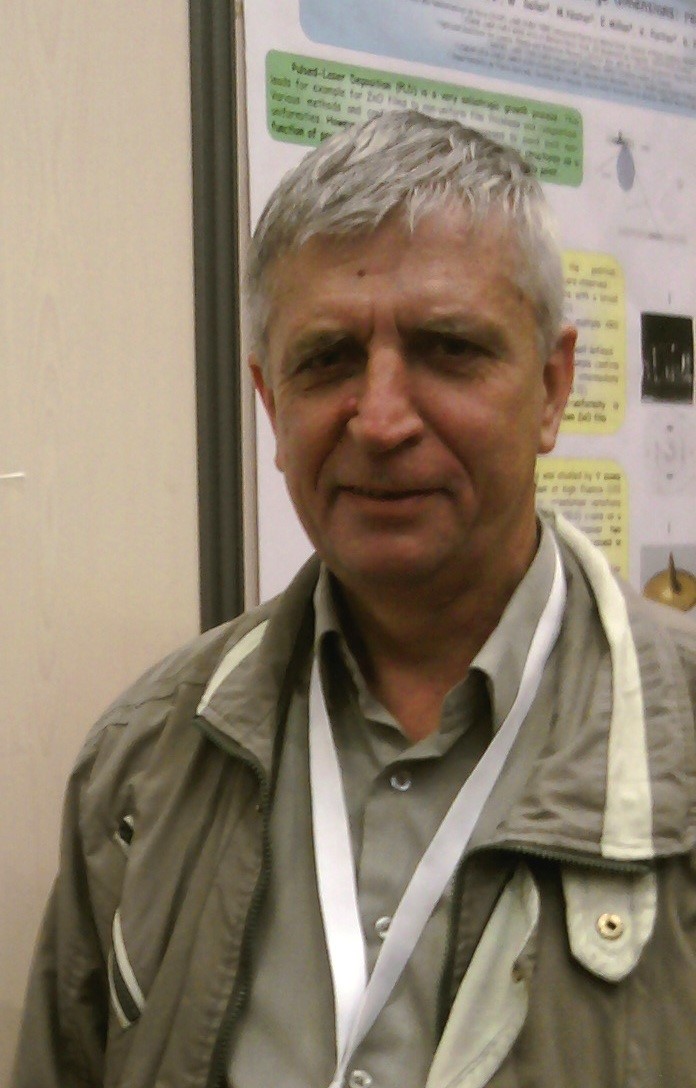 Oleksandr Yu. Semchuk
CURRENT POSITION:
Doctor of Sciences (Phys&Math) , Senior Research Fellow,
Head of Department of Physics and Chemistry of surfaces nanosystems
Chuiko Institute of Surface Chemistry National Academy of Sciences (NAS) of Ukraine
CONTACTS:
E-mail: aleksandr1950@meta.ua
Phone: + 38 (044) 422 9697
Fax: + 38 (044) 424 3567
17 General Naumov Str., Kyiv, 03164, Ukraine
RESEARCH INTERESTS:
Physics and Chemistry of surfaces, Laser Physics, Physics of nanoparticles
MEMBER OF EDITORIAL BOARDS:
Surface (collection), Mathematical methods in chemistry and biology
TEACHING ACTIVITY:
Supervisor of postgraduates and degree candidates works. Special lectures on interaction between laser irradiation and solid state and physics of nanoparticles for undergraduate and graduate students
SELECTED PUBLICATIONS:
Venger E.F., Semchuk O.Yu., Gavrylyuk O.O. Laser-induced nanostructures in solid state.- K.: Academperiodika, 2016. - 236 p. ISBN 978-360-323-0 (ukr).

Semchuk O.Yu. The Theory of Absorption and Emission of Light by Free Electrons in Ferromagnetic Semiconductors. Sringer Proceedings Phys. Nanooptics, Nanophotonics, Nanostructures, and Their Applications. Chapter 4. - 2018. – V. 210. ISBN : 978-3-319-91082-6.

Gavrylyuk O.O., Semchuk O.Yu. , Bratus O.L. , Evtukh A.A. , Steblova O.V., Fedorenko L.L. Transformation of SiOx films into nanocomposite SiO2(Si) films under thermal and laser annealing . Applied Surface Science. 2014. 302 : 213–215.

Gavrylyuk O.O., Semchuk O.Yu., Steblova O.V., Evtukh A.A., Fedorenko L.L., Bratus O.L., Zlobin S.O., Karlsteen M. Influence of laser annealing on SiOx films properties Applied Surface Science. 2015. 336 : 217–221.

O.V. Pylypova, A.A. Evtukh, P.V. Parfenyuk, I.M. Korobchuk, O.O. Havryliuk, O.Yu. Semchuk. Influence of Si nanowires on solar cell properties: effect of the temperature. Appl. Phys. A. 2018. 124 (11)773-775.