Photoluminescence and optical absorption of single crystal and glassy lithium tetraborate doped with silver and manganese
M. V. Ignatovych

Chuiko Institute of Surface Chemistry of National Academy of Sciences of Ukraine
Abstract
Silver and manganese -doped lithium tetraborate single crystal and glassy phosphors with different dopant content were studied. Optical absorption, steady-state and time-resolved photoluminescence techniques were used. for spectral characterization of samples. Optical absorption- as well as photoluminescence excitation and emission spectra of LTB:Mn single crystal revealed that manganese is present only in the form of Mn2+ions, while in the glassy LTB:Mn simultaneous presence of Mn2+ and Mn3+ ions was detected. Optical absorption and photoluminescence spectral characterization of LTB:Ag single crystal showed that only one type of Ag1+ ions are absorbing and emitting centres while in the LTB:Ag glassy samples the presence of at least two non-equivalent surrounding of Ag1+ ions was revealed.
References
Blasse G., Grabmaier B.C., Luminescent Materials. – Berlin: Springer, 1994 – 270 с.
Гринев Б.В., Дубовик Н.Ф., Толмачев А.В. Оптические монокристаллы сложных оксидных соединений. – Харьков: Институт монокристаллов, 2002. – 250 с.
Prokic M. Lithium Borate Solid TL Detectors / /Radiat. Meas.– 2001. – V. 33. – P. 393 –396.
Ignatovych M., Holovey V., Watterich A., et al. UV and electron radiation-induced luminescence of Cu- and Eu-doped lithium tetraborates // Radiat. Phys. Chem. – 2003. – V. 67. – P. 587 – 591.
Ignatovych M., Holovey V., Watterich A., et al. Luminescence characteristics of Cu and Eu-doped Li2B4O7 // Radiat. Meas. – 2004. – V. 38. – P. 567 – 570.
Ignatovych M., Holovey V., Vidoczy T., et al. Spectroscopy of Cu- and Ag-doped Single Crystal and Glassy Lithium Tetraborate: Luminescence, Optical Absorption and ESR Study // Functional Materials. – 2005. – V. 12. – P. 313 – 316.
Reinsfeld R., Kisilev A., and Jorgensen C.K., Luminescence of manganese(II) in 24 phosphate glasses //Chem. Phys. Letters. – 1984. – V. 111. – P. 19 – 24.
Ishii M., Kuwano Y., Asaba S.,.et al., Luminescence of doped lithium tetraborate single crystals and glass // Radiat. Meas. – 2004. – V. 38. – P. 571 – 574.
Machado I.E.C., Prado L., Gomes L. et al. Optical properies of manganese in barium phosphate glasses // J. Non-Cryst. Solids. – 2004. – V. 348. – P. 113 – 117.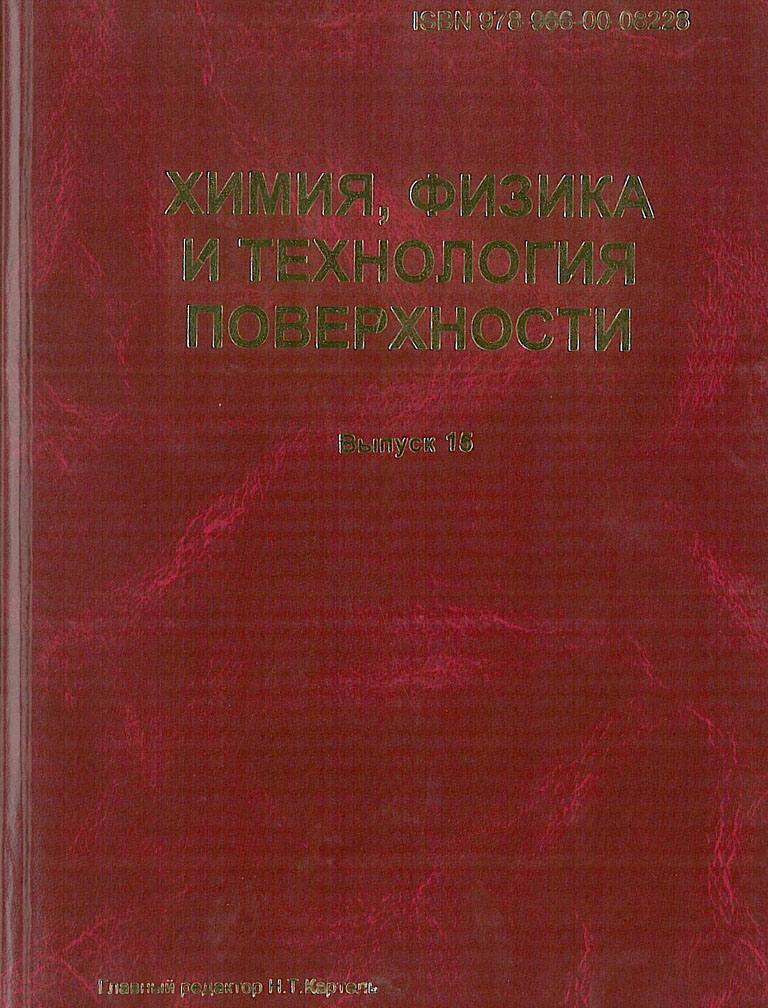 How to Cite
Ignatovych, M. V. (2009). Photoluminescence and optical absorption of single crystal and glassy lithium tetraborate doped with silver and manganese. Surface, (15), 273-278. Retrieved from http://surfacezbir.com.ua/index.php/surface/article/view/348
Section
Nanomaterials and nanotechnologies