A quantum chemical analysis of dependence of the protolytic properties of silica primary particles on their composition and spatial structure
A. A. Kravchenko

Chuiko Institute of Surface Chemistry of National Academy of Sciences of Ukraine

E. M. Demianenko

Chuiko Institute of Surface Chemistry of National Academy of Sciences of Ukraine

O. V. Filonenko

Chuiko Institute of Surface Chemistry of National Academy of Sciences of Ukraine

A. G. Grebenyuk,

Chuiko Institute of Surface Chemistry of National Academy of Sciences of Ukraine

V. V. Lobanov

Chuiko Institute of Surface Chemistry of National Academy of Sciences of Ukraine

M. I. Terets

Chuiko Institute of Surface Chemistry of National Academy of Sciences of Ukraine
Keywords:
density functional theory, silicic acids, fullerene-like molecules, pKa
Abstract
High disperse silica is used as a sorbent and carrier of medical preparations in various branches of medicine, biotechnology etc. due to its physico-chemical properties, in particular, rather developed surface, chemical inertness, considerable adsorption capacity. The protolytic equilibrium of silica surface is to be examined, because the structure of its hydroxylic layer determines its properties. When silicic acid is polymerized, an increase in the molecular mass of the particles formed and the acidic properties of oligomers are changed.
References
1. Schmidt M.W., Baldridge K.K., Boatz J.A., Elbert S.T., Gordon M.S., Jensen J.H., Koseki Sh., Matsunaga N., Nguyen K.A., Su Sh., Windus T.L., Dupuis M., Montgomery J.A. Jr. General atomic and molecular electronic-structure system: Review. J. Comput. Chem. 1993. 14(11): 1347. https://doi.org/10.1002/jcc.540141112
2. Stewart J.J.P. MOPAC 2012. Colorado Springs, CO, Stewart Computational Chemistry, USA, 2014. http://openmopac.net
3. Demianenko E., Ilchenko M., Grebenyuk A., Lobanov V. A theoretical study on orthosilicic acid dissociation in water clusters. Chem. Phys. Lett. 2011. 515(4–6): 274. https://doi.org/10.1016/j.cplett.2011.09.038
4. Kravchenko A.A., Demianenko E.M., Grebenyuk A.G., Lobanov V.V. Quantum chemical simulation of silica surface protolytic equilibrium. Him. Fiz. Tehnol. Poverhni. 2014. 5(1): 16. [in Ukrainian].
5. Filonenko O.V., Kuts V.S., Terebinska M.I., Lobanov V.V. Quantumchemical calculation of 29Si-NMR spectrum of silicon dioxide fullerene-like molecules. Him. Fiz. Tehnol. Poverhni. 2015. 6(2): 263. https://doi.org/10.15407/hftp06.02.263
6. Turov V.V., Gunko V.M. Klasterizatsiya vody i puti yeye ispol'zovaniya. (Kyiv: Naukova Dumka, 2011). [in Russian].
7. Gun'ko V.M., Zarko V.I., Goncharuk O.V., Matkovsky A.K., Remez O.S., Skubiszewska-Zięba J., Wojcik G., Walusiak B., Blitz J.P. Nature and morphology of fumed oxides and features of interfacial phenomena. Appl. Surf. Sci. 2016. 366: 410. https://doi.org/10.1016/j.apsusc.2016.01.062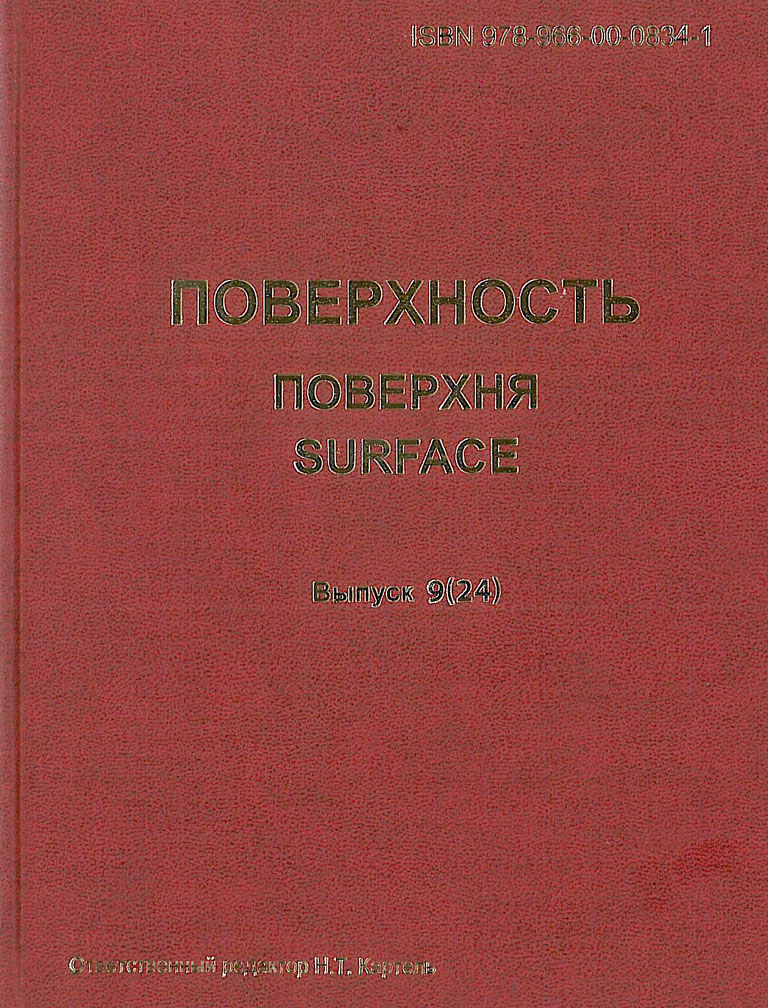 How to Cite
Kravchenko, A. A., Demianenko, E. M., Filonenko, O. V., Grebenyuk, A. G., Lobanov, V. V., & Terets, M. I. (2017). A quantum chemical analysis of dependence of the protolytic properties of silica primary particles on their composition and spatial structure. Surface, (9(24), 28-35. https://doi.org/10.15407/Surface.2017.09.028
Section
Theory of surface chemical structure and reactivity.