The state of water adsorbed by the surface of amber particles and its composite system with nanosilic, according to NMR spectroscopy
T. V. Krupskaya

Chuiko Institute of Surface Chemistry of National Academy of Sciences of Ukraine

N. V. Yelahina

Chuiko Institute of Surface Chemistry of National Academy of Sciences of Ukraine

N. V. Borisenko

Chuiko Institute of Surface Chemistry of National Academy of Sciences of Ukraine

V. V. Turov

Chuiko Institute of Surface Chemistry of National Academy of Sciences of Ukraine

P. Jovaisas

UAB Silicio Biotechnologijos

R. Bieliauskiene

UAB Silicio Biotechnologijos
Abstract
The state of water in the hydrated amber powder and the amber/SiO2 composite system at a ratio of 1:9 was studied by low-temperature 1H NMR spectroscopy. It is shown that amber gasification in the composition of the composite is completed at a temperature of T = 550 °C, which is almost 100 °C lower than that for the initial amber. The likely cause is a decrease in the size of amber particles when it is immobilized on the surface of nanosilica. It is found that for the amber/SiO2 system with increasing water concentration from 100 to 280 mg/g, the contribution from water clusters whose radius does not exceed 1.5 nm increases. It is shown that in the presence of strong acids at the boundary with a hydrophobic environment, part of the water bound to the surface of the amber/SiO2 composite passes into a weakly associated state, which may serve as one of the signs of increasing the bioavailability of substances desorbed from the composite.
References
1. Ragazzi E. Amber, a stone of sun for ancient medicines. Acta medico-historica Rigensia. 2016. X: 208.
2. Kulicka R. The role of amber in religious beliefs and popular medicine. In: Amber, treasure of the ancients seas. (Warszawa: Oficyna Wydawnicza Sadyba, 1998).
3. Karlberg A.T., Boman A., Liden C. Studies on the allergenicity of Baltic amber. Contact Dermatitis. 1992. 27(4): 224. https://doi.org/10.1111/j.1600-0536.1992.tb03250.x
4. Chen S.W., Kong W.X., Min L., Li J.F. Anxiolytic-like effect of succinic acid in mice. Life Sci. 2003. 73(25): 3257. https://doi.org/10.1016/j.lfs.2003.06.017
5. Narayan S., Devi R.S., Jainu M., Sabitha K.E., Shyamala Devi C.S. Protective effect of apolyherbal drug, ambrex in ethanol-induced gastric ulcers. Indian J. Pharmacol. 2004. 36(1): 34.
6. Yuan J., Guo W., Yang B., Liu P., Wang Q., Yuan H. 116 cases of coronary angina pectoris treated with powder composed of radix ginseng, radix notoginseng and succinum. J. Tradit. Chin. Med. 1997. 17(1): 14.
7. Kosmowska-Ceranowicz B. Biomineralizacja i biomateriały. (Warszawa: PWN, 1991).
8. Gun'ko V.M., Turov V.V., Gorbik P.P. Voda na mezhfaznoy granitse. (Kyiv: Naukova Dumka, 2009). [in Russian].
9. Gun'ko V.M., Turov V.V. Nuclear Magnetic Resonance Studies of Interfacial Phenomena. (New York: Taylor & Francis, 2013). https://doi.org/10.1201/b14202
10. Gun'ko V.M., Turov V.V., Bogatyrev V.M., Zarko V.I., Leboda R., Goncharuk E.V., Novza A.A., Turov A.V., Chuiko A.A. Unusual properties of water at hydrophilic/hydrophobic Interfaces. Adv. Colloid Interface Sci. 2005. 118(1–3): 125. https://doi.org/10.1016/j.cis.2005.07.003
11. Patent UA 105151. Krupska T.V., Turov V.V., Barvinchenko V.M., Filatova K.O., Suvorova L.A., Kartel M.T. Sposib ushchil'nennya nanokremnezema. 2016. [in Ukrainian].
12. Krupskaya T.V., Turov V.V., Barvinchenko V.M., Filatova K.O., Suvorova L.A., Gianluca Iraci, Kartel M.T. Influence of the "wetting-drying" compaction on the adsorptive characteristics of nanosilica A-300. Adsorpt. Sci. Technol. 2017. 36(1–2): 026361741769176.
13. Petrov O.V., Furo I. NMR cryoporometry: Principles, application and potential. Prog. Nucl. Magn. Reson. Spectrosc. 2009. 54(2): 97. https://doi.org/10.1016/j.pnmrs.2008.06.001
14. Atkins D., Kékicheff P., Spalla O. Adhesion between colloidal silica as seen with direct force measurement. J. Colloid Interface Sci. 1997. 188(1): 234. https://doi.org/10.1006/jcis.1996.4751
15. Glushkov V.P. Termodinamicheskiye svoystva individual'nykh veshchestv. (Moscow: Nauka, 1978). [in Russian].
16. Turov V.V., Gun'ko V.M., Turova A.A. Morozova L.P., Voronin E.F. Interfacial behavior of concentrated HCl solution and water clustered at a surface of nanosilica in weakly polar solvents media. Colloids Surf. A. 2011. 390(1–3): 48. https://doi.org/10.1016/j.colsurfa.2011.08.053
17. Gun'ko V.M., Morozova L.P., Turova A.A., Turov A.V., Gaishun V.E., Bogatyrev V.M., Turov V.V Hydrated phosphorus oxyacids alone and adsorbed on nanosilica. J. Colloid Interface Sci. 2012. 368(1): 263. https://doi.org/10.1016/j.jcis.2011.11.018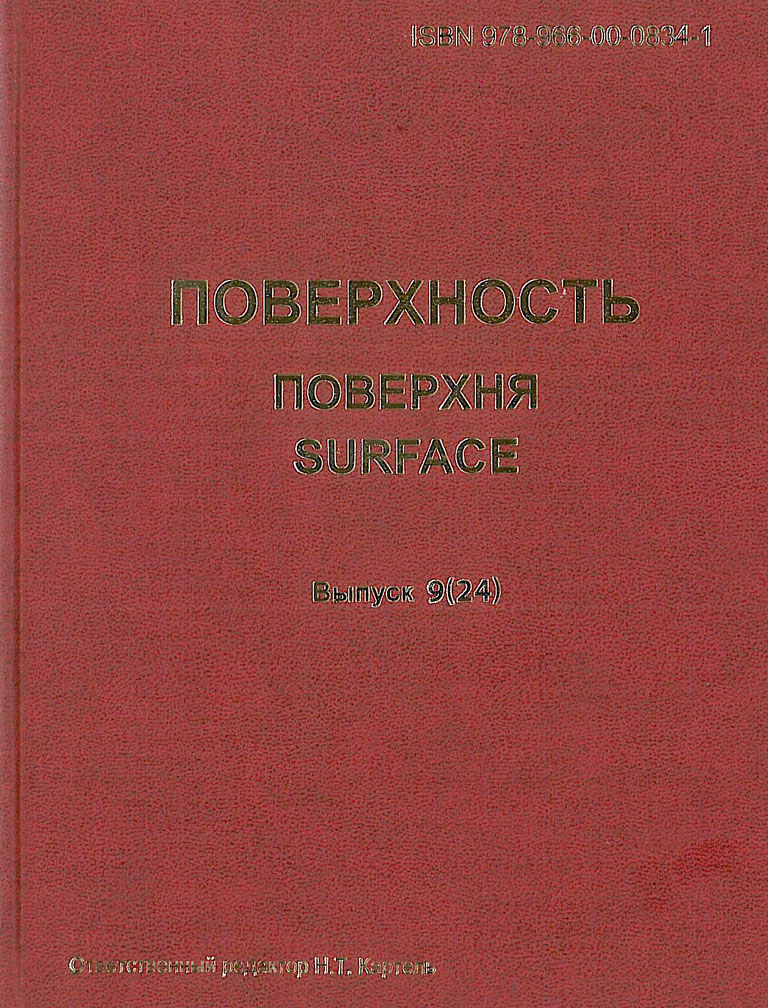 How to Cite
Krupskaya, T. V., Yelahina, N. V., Borisenko, N. V., Turov, V. V., Jovaisas, P., & Bieliauskiene, R. (2017). The state of water adsorbed by the surface of amber particles and its composite system with nanosilic, according to NMR spectroscopy. Surface, (9(24), 256-267. https://doi.org/10.15407/Surface.2017.09.256
Section
Medical and biological problems of surface