Influence of high-dispersed calcite on rheology, structure, and thermostability of polypropylene-based compositions there of
L. S. Dzubenko

Chuiko Institute of Surface Chemistry, NAS of Ukraine

S. V. Saitarly

Kyiv National University of Technologies & Design

O. O. Sapyanenko

Chuiko Institute of Surface Chemistry, NAS of Ukraine

P. P. Gorbyk

Chuiko Institute of Surface Chemistry, NAS of Ukraine

V. P. Plavan

Kyiv National University of Technologies & Design

Yu. O. Budash

Kyiv National University of Technologies & Design
Keywords:
poypropylene, calcite, composite, rheology, structure thermal stability
Abstract
There were highly-filled composites, based on (polypropylene) PP and containing 5 – 50 % mass. of calcite concentrate (CC), consisting in highly-dispersed calite powder, modified with organic compounds. It is established, that value for organic part content in CC was
24 % mass. CC and highly-flowing PP was used for process of concentrate granulation process.
It is shown, that, when at increase of CC's contents values, those ones of viscosity for compositions melts decreases simultaneously, dissonating with traditional laws for polymer melt flows, when those are intrisically and typically increasing. It is established, that melt flow index values, when at increase of CC contents for those ones, increasing also – from 3.1 g/10 min for pure PP, to 6,6 g/10 min for composition of 50 % mass. CC. It is discovered, that CC is having influence on melt and crystallization processes of PP. When at low (5 % mass.) and middle
(10 – 20 % mass.) of CC contents values, there are meling and crystallization temperatures increasing – from 168 °C to 169 – 170 °C and from 115 °C to 117 – 118 °C, accordingly, and melting temperature range is narrowing – from 42 °C pure PP) to 38 – 34 °C, for composites of CC contents values of 30 –  50 % mass., accordingly, and crystallization temperature range – from 18 °C (pure PP, 0 % CC), to 16 – 15 °C, for composites of high CC contents values, accordingly also. There are increasing of phase transitions temperatures exists, pointing on formation of more large and perfect crystallites, however, narrowing in those ones range points on creation of more dimensionally uniform such of supermolecular structures. Such influence for CC on rheological behavior and temperature characteristics of phase transitons phenomena  links with plastyfying effect of modifier's chains on CC surfaces of particles, and, simultaneously, at presence of highly-flowing PP as base polymer in. CC injection making some decrease here, namely for activation energy values for oxidative thermodestruction, this phenomen is expaining with more decrease of bounding degree in system, causing with  presence of modifier additions in system, and one have influence on.
References
Xanthos M. Functional Fillers for Plastics. Scientific fundamentals and technologies. 2010: 462. (in Russian). https://doi.org/10.1002/9783527629848
Lubimov, A.G., Prokopchuk, N.R., Manulenko, A.F. The Features of Polypropylene Modification for Film Fiber Preparation. BGTU's Works. Chemistry, Technology for Organic Compounds, and Biotechnology. 2011. 4: 59. (in Russian).
Katzevman, M., Kiselev, S., Eizinson, I. The Use for Concentrates of Mineral Fillers in Polymer Pipe Industries. Polymer Pipes. 2011. 1(31): 31.(in Russian).
Kalinchev, E.L., Sakovtseva, M.B., Pavlova, I.V., Kavokin., E.I., Sakovich., D.A. Effective Approach in Advanced Composite Materials Designing. Polymer Materials. 2008. 3: 4. (in Russian).
Mihajlović S., Sekulić Ž, Daković A., Vučinić D., Jovanović V., Stojanović J. Surface properties of natural calcite filler treated with stearic acid. Ceramics - Silikáty. 2009. 53(4): 268.
Niftaliyev, S.I., Lygina, L.V., Peregudov, Yu.S., Prokofieva, L.A. Investigation for Rheological Properties of PVC - Based Composites. Proceedings of the Voronezh State University of Engineering Technologies. 2014. 2: 132. (in Russian)
Newer Methods of Polymer Characterization. Bacon Ke, Ed. Interscience (Wiley), New York. 1966: 572 . (in Russian).
Prokopchuk, N.R. Determination for Activation Energy of Polymer Destruction by Thermogravimethrical Data. Plast. Massy. 1983. 10: 24. (in Russian).
Volfson, S.I., Ohotina, N.A., Nigmatullina A.I., Sabirov ,R.К., Vlasov, V.V., Trofimov, L.V. TPR, Modified by Morillonite. Kauchuk I Rezina. 2010. 3: 11. (in Russian).
Kovalenko, A.N., Gurova., A.V. All Truth About Chalk Additives. Polimernyie Materialy. 2015. 8(1): 6. (in Russian).
Kovalenko, A.N., Gurova., A.V. All Truth About Chalk Additives. Polimernyie Materialy. 2015. 10(2): 4.(in Russian).
Solomko V.P. The Filled and Crystallizing Polymers. Naukova Dumka. 1980: 264. (in Russian).
Lipatov Yu.S. The Colloidal Chemistry of Polymers. Naukova Dumka. 1984: 344 (in Russian).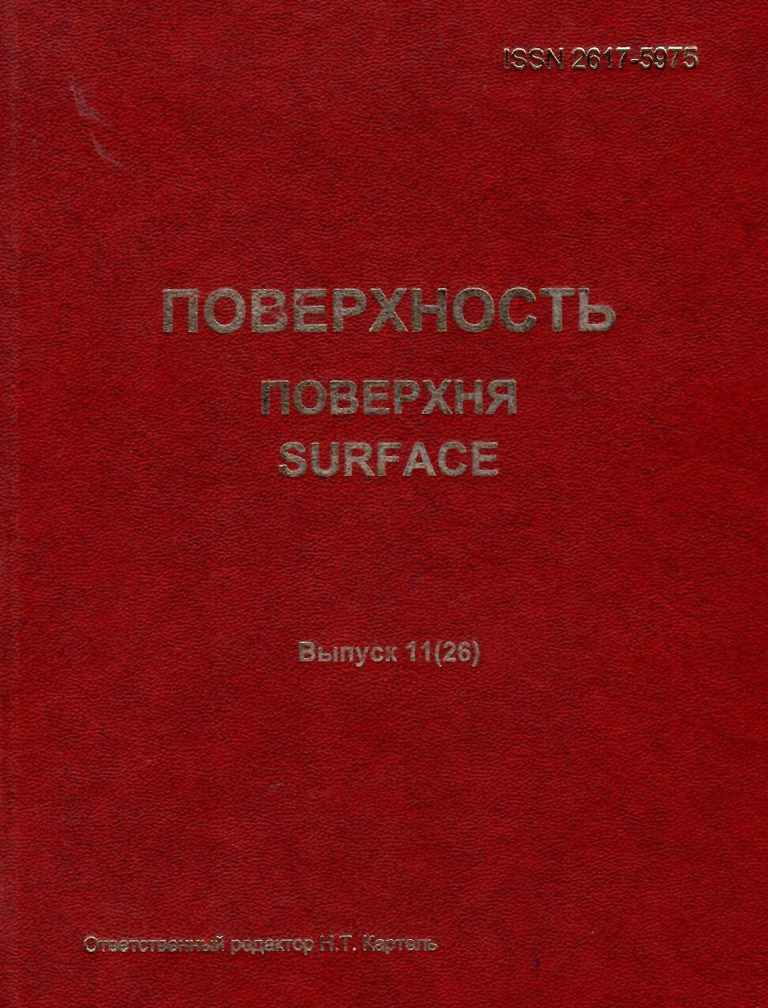 How to Cite
Dzubenko, L. S., Saitarly, S. V., Sapyanenko, O. O., Gorbyk, P. P., Plavan, V. P., & Budash, Y. O. (2019). Influence of high-dispersed calcite on rheology, structure, and thermostability of polypropylene-based compositions there of. Surface, (11(26), 403-413. https://doi.org/10.15407/Surface.2019.11.403
Section
Physics and chemistry of surface phenomena