Energy absorption of laser radiation by metal nanoparticles in the conditions of surface plasmon resonance
O. Yu. Semchuk

Chuiko Institute of Surface Chemistry of National Academy of Sciences of Ukraine

O. O. Havryliuk

Chuiko Institute of Surface Chemistry of National Academy of Sciences of Ukraine

https://orcid.org/0000-0003-4487-0537

A. A. Biliuk

Chuiko Institute of Surface Chemistry of National Academy of Sciences of Ukraine
Keywords:
laser radiation, frequency, metal nanoparticles, plasmons, surface plasmons, ellipsoid, spheroid, absorption, surface plasmon resonance, plasmon resonance line width
Abstract
A characteristic feature of metal nanoparticles is the dependence of their absorption of light (laser radiation) on the polarization of the wave and the shape of the particles, especially in the ultraviolet frequency range. Under the same conditions, the power absorbed by nanoparticles, equal in volume but different in shape, can differ by several orders of magnitude. In addition, surface plasmon resonance (SPR) takes place in metal nanoparticles — an increase in the absorption cross section of the energy of the nanoparticle as the frequency of incident laser radiation approaches the SPR frequency of the nanoparticle. The appearance of surface plasmons in the Drude-metal model and the absorption of laser radiation in metal nanoparticles at frequencies close to SPR are analyzed. Nanoparticles whose linear dimensions are much smaller than the wavelength of laser radiation are considered. It is shown that in this case the metal nanoparticle is in spatially homogeneous, but time-oscillating electric and magnetic fields. The geometric factors for elongated and flattened spheroids are calculated. It is shown that the shape of a flattened spheroid changes from a disk (e = 1) to a ball (e = 0), and an elongated spheroid changes from a needle (e = 1) to a ball (e = 0). The relationship between the transverse and longitudinal components of the width of the SPR line on the ratio of the axes of the spheroid is considered. It was found that the widths of the absorption lines of external radiation at the SPR frequencies, in addition to the shape of the particles, are also determined by the diagonal components of the nanoparticle conductivity tensor.
The aim of this work is to consider the plasmon vibrations of electrons in metal nanoparticles of various shapes and to determine the frequencies at which resonant absorption of laser radiation energy can occur and to calculate the plasmon resonance line width.
References
Zamchiy A. O., Starinsky S. V., Safonov A. I., Buiko M. A., Baranov E. A. The effect of plasmon nanoparticles and gold films on the transmission spectra of thin films of silicon suboxide. Modern problems of science and education. 2014. 6. [In Russian].
Bethe, G., Sommerfeld, A. Electronic Theory of Metals. (Moscow - Leningrad:ONTI NKTP USSR, 1938). [in Russian].
Venher E. F., Goncharenko A. V., Dmitruk M. L. Optics of Small Particles and dispersion medium. (Kyiv: Naukova dumka, 1999). [in Ukrainian].
Vartanyan. T.A. Fundamentals of the physics of metallic nanostructures. Textbook, lecture course. (St. Petersburg: NRU ITMO, 2013). [in Russian].
Bohren C.F., Huffman D.R. Absorption and Scattering of Light by Small. (NY: Core Publ., John Wiley & Sons, 1984)
Landau L. D., Lifshitz E. M. Electrodynamics of Continuous Media. (Addison-Wesley Publishing Company, Inc., 1960).
Petrov Yu. I. Physics of Small Particles. (Nauka, Moscow, 1982). [in Russian].
P.M. Tomchuk, B.P. Tomchuk. Optical absorption by small metal particles. Zh. Eksp. Teor. Fiz. 1997. 112(661). [in Russian].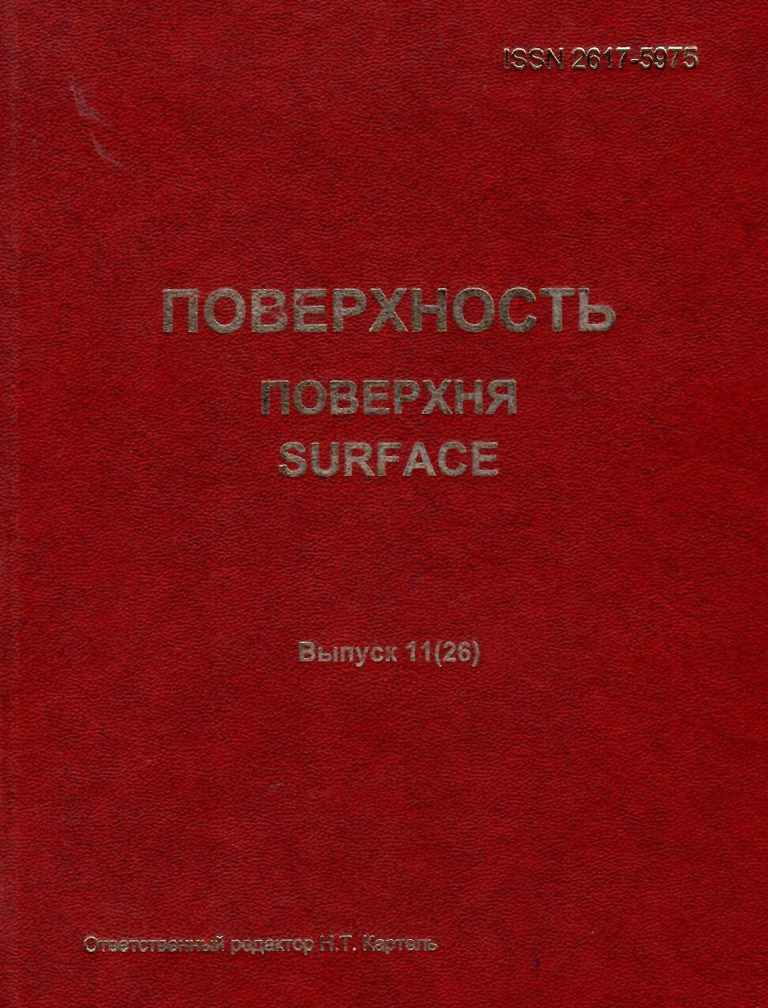 How to Cite
Semchuk, O. Y., Havryliuk, O. O., & Biliuk, A. A. (2019). Energy absorption of laser radiation by metal nanoparticles in the conditions of surface plasmon resonance. Surface, (11(26), 496-507. https://doi.org/10.15407/Surface.2019.11.496
Section
Nanomaterials and nanotechnologies