Application of basaltic compositions for the production of biocidal paper
V. M. Shevchenko

National Technical University of Ukraine "KPI named Igor Sikorsky"

N. A. Guts

National Technical University of Ukraine "KPI named Igor Sikorsky"

A. Ye. Shpak

National Technical University of Ukraine "KPI named Igor Sikorsky"
Keywords:
biostable material, cellulose, basalt fibers, clay minerals
Abstract
 One of the main problems today is the storage of funds, provision of storage conditions, the absence of mold, microbiological dispersions in the air, processing of documents, detoxification of previously processed materials.
In this work, samples of papers (condenser, writing, carton for lamination) and usage of biocidal materials (Polydez, Gembar and Metatin) were investigated. The technology of processing samples is not very simple. Biocidal effects were carried out on test cultures of microscopic fungi taken from damaged documents.
In addition, samples of papers processed with composite mixtures containing basalt and cellulose fibers, montmorillonite clay and sodium resin salts (SSRA) or sodium humate (SH) were studied in parallel. Aging of samples was monitored by indicators such as the material's whiteness and breakthrough strength (n.d.f.) - the properties that are sensitive to the aging process.
It has been proved that samples containing basalt and cellulose fibers, montmorillonite and sodium salts of resin acids (or sodium humate) are more likely to suppress the spread of fungi and microorganisms than official state biocidal materials.
Therefore, in this work it is proposed the material and composition mixture, which guarantees certain physical and mechanical properties of the finished product and has a much simpler and cheaper technology to obtain the disinfecting material.
References
Nagi Terry A. Insight from vision 21-st the printing industry redefined for the 21-st century. Solut!. People Process Paper .2002. 10(85): 33.
Flyate D. M. Properties of Paper Edition 3. (Moscow, Forestry, 1986).
Strassburg Richard. Further Information on the Use of ethylene oxide as a Library and Archival Fumigant. (SAA Leaflet, 1983)
Kazumina O.V., Baryshnikova Z.P. Collection "Paper Aging" (Publishing house "Science", 1995)
Donskoy A.V. Disinfection and Restoration of Library Materials (Leningrad, Publishing House of the State Public Library, 1989)
Zagulyayeva Z.A. Problems of conservation and restoration of paper and parchment. (Publishing house of the Academy of Sciences of the USSR,1982).
John H. Halnes, Stuart A. Kohler. An evaluation of ortho-phenol as a fungicidal fumigant for archives and libraries. Y. Amer. Inst. Conserv. 1996. 25(1):49. https://doi.org/10.1179/019713686806028078
Shevchenko V.M., Alekseev O.L.Principles of recharging and its influence on the properties of paper-like materials. Abstracts of the conference "Nano-sized systems. 2004. 12:170.
Shevchenko V.M., Guts N.A., Pidgornyi A.V. Bentonite clays in compositions with basalt fibers. Collection of scientific works SWorld. 2016. Book 10. 1(42): 80.
DSTU 3364-96 Cellulose. Method of determining the whiteness
DSTU 3476-96 Paper. Definition of whiteness on fracture during multiple folds
Kruglitskyi N.N. Physics-chemical bases of regulating properties of the disperse of clay minerals. (Kyiv: Naukova dumka, 1994).
Shevchenko V.M., Guts N.A. Influence of temperature and homeostasity of dispersed minerals on characteristics of composite materials of basalt. Collection of scientific works SWold. 2014. 30: 27.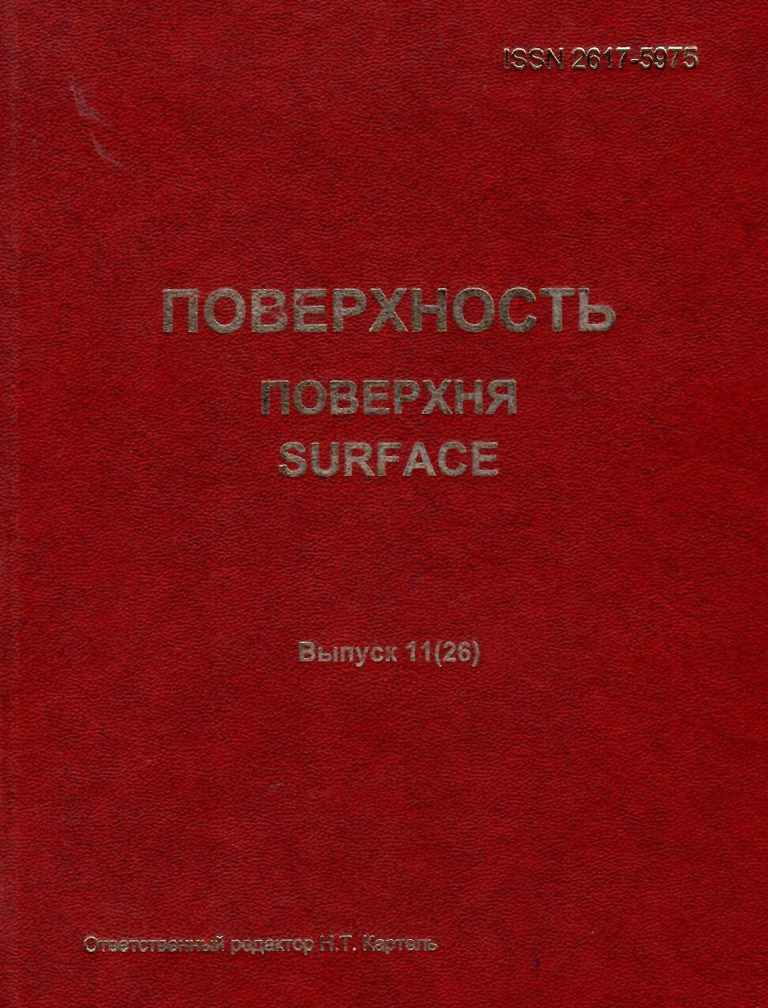 How to Cite
Shevchenko, V. M., Guts, N. A., & Shpak, A. Y. (2019). Application of basaltic compositions for the production of biocidal paper. Surface, (11(26), 521-530. https://doi.org/10.15407/Surface.2019.11.521
Section
Nanomaterials and nanotechnologies