Vlasova N.M.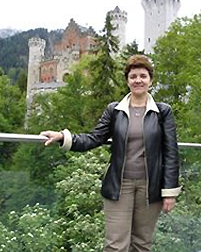 Nataliya N.Vlasova
Doctor of Sciences (Chemistry)
Leading Researcher of the Department of Chemical Design of Silica's Surface
Telephone: +38 (044) 422 96 68
Fax: +380 44 424-35-67
E-mail: natalie.vlasova@gmail.com
N.N.Vlasova works at the Chuiko Institute of Surface Chemistry of National Academy of Sciences of Ukraine since 1988. She is member of Academic Council of Chuiko Institute of Surface Chemistry.
Scientific interests
Coordination chemistry of oxide surfaces; application of surface complexation theory for quantitative characterization of adsorption of biomolecules and their complexes with metal ions at the oxide – aqueous solution interfaces.
Background
1969–1974 - graduated from Chemistry Department of Kiev State University, organic chemist
1980 – PhD in Chemistry, speciality "inorganic chemistry" (candidate dissertation "The investigation of coordination compounds of biometals with orotic acid and its derivatives" (in Russian))
1985 – Senior Researcher, speciality "inorganic chemistry"
2017 – Doctor of Chemistry, speciality "physical chemistry" (doctoral dissertation "Quantitative estimation of adsorption equilibria as complexation reactions onto silica – aqueous solution interface" (in Ukrainian))
Scientific works
Author more than 100 publications including 4 chapters in collective monographs, supervisor of 2 PhD theses.
Selected publications
N.N.Vlasova, L.P. Golovkova, N.G. Stukalina. Adsorption complexes of acridine diaminoderivatives on silica surface // Coll. J. (Russ). – 2012. – V.74, № 1. – P.22–31.

M. Kersten, N.Vlasova. The influence of temperature on the selenate adsorption by goethite // Radiochi, Acta. – 2013. –V.101. – P.413–419.

N.N.Vlasova, O.V. Markitan, L.P. Golovkova. Adsorption of components of nucleic acids onto a titanium dioxide surface // Coll. J. (Russ). – 2015. – V.77, № 4. – P.425–430.

N.N.Vlasova. Adsorption of amino acids on a cerium dioxide surface // Coll. J. (Russ). – 2016. – V.78, № 6. – P.747–752.

N.N.Vlasova, O.V. Markitan. Adsorption of pyrimidine nucleotides on a titanium dioxide surface // Coll. J. (Russ). – 2018. – V.80, № 4. – P.364–370