Nanocomposite systems on the basis of nanosilicas for germination some types of vegetable crops
Y. Jankauskiene

Institute of fruit and vegetable growing, branch of the Agricultural and Forestry Sciences Center of Lithuania

V. Zalatorius

Institute of fruit and vegetable growing, branch of the Agricultural and Forestry Sciences Center of Lithuania

R. Starkute

Institute of fruit and vegetable growing, branch of the Agricultural and Forestry Sciences Center of Lithuania

O. Bundineene

Institute of fruit and vegetable growing, branch of the Agricultural and Forestry Sciences Center of Lithuania

T. V. Krupskaya

Chuiko Institute of Surface Chemistry of National Academy of Sciences of Ukraine

A. P. Golovan

Chuiko Institute of Surface Chemistry of National Academy of Sciences of Ukraine

V. V. Turov

Chuiko Institute of Surface Chemistry of National Academy of Sciences of Ukraine

P. Jovaisas

UAB Silicio Biotechnologijos

R. Bieliauskiene

UAB Silicio Biotechnologijos
Abstract
The composite systems basis on silicas and initial silicas are able to exert a positive effect on the germination energy and the germination of vegetable seeds. However, for tomatoes, the value of the effect depends on the species and the hybrid. The most effective preparation for treatment of the white cabbage hybrid '' Gallican '' seeds was hydrophobic silica with a balanced mixture of micro- and macronutrients without boron immobilized on its surface. The longest roots of the carrot sprouts were obtained after the seeds treatment with hydrophilic silica with Delfan Plus. Although the presence of a hydrophobic component in nanocomposite systems, its stay permeable to water. Weakly associated forms of water create itself at the interface between phases with hydrophobic substances.
References
1. Sorme L., Lagerkvist R. Sources of heavy metals in urban wastewater in Stockholm. Sci. Total Environ. 2002. 298(1–3): 131. https://doi.org/10.1016/S0048-9697(02)00197-3
2. Williford C., Bricka R.M. Physical separation of metal-contaminated soils Environmental Restoration of Metals-Contaminated Soils. 1th Edition. (CRC Press LLC, Boca Raton, FL, 2000).
3. Shabanova I.V., Tsokur M.N., Dolotova M.S. Nanomaterials in agr iculture: reception and application. Scientific Journal of KubSAU. 2007. 27(3): 1. [in Russian].
4. Egorov M.A. Bioregulyatory s nanokomponentami kak perspektivnyye biopreparaty. Nanotechnology. 2006. 4: 74. [in Russian].
5. Egorov N.P., Shafronov O.D., Egorov D.N., Suleimanov E.V. Development and experimental estimation of applicat ion efficiency of new nanotechnology fertilizers in crop production. Vestnik of Lobachevsky University of Nizhni Novgorod. 2008. 6: 94. [in Russian].
6. Bogomaz V.I. Ph.D. (Chem.) Thesis. (Kyiv, 1982). [in Russian].
7. Shpak A.P., Chekhun V.F. Nanomaterialy i nanokompozity v meditsine, biologii, ekologii. (Kyiv: Naukova Dumka, 2011). [in Russian].
8. Turov V.V., Krupskaya T.V., Barvinchenko V.M., Lipkovskaya N.O., Yukhymenko O.V., Kartel M.T., Suvorova L.A., Morozova I. The mechanism of protective effect of nanocomposite system "Ekostim" for seed pre-treatment. Eur. Sci. Rev. 2015. 2: 34.
9. Turov V.V., Krupskaya T.V., Barvinchenko V.M., Lipkovska N.O., Kartel M.T., Suvorova L.A. Peculiarities of watercluster formation on the surface of dispersed KCl: The influence of hydrophobic silica and organic media. Colloids Surf. A. 2016. 499: 97. https://doi.org/10.1016/j.colsurfa.2016.03.069
10. Gun'ko V.M., Turov V.V., Bogatyrev V.M., Zarko V.I., Leboda R., Goncharuk E.V., Novza A.A., Turov A.V., Chuiko O.O. Unusual properties of water at hydrophilic/hydrophobic Interfaces. Adv. Colloid Interface Sci. 2005. 118(1–3): 125. https://doi.org/10.1016/j.cis.2005.07.003
11. Abragam A. The Principles of Nuclear Magnetism. (UK, Oxford: Oxford University Press, 1961).
12. Kinney D.R., Chaung I-S., Maciel G.E. Water and the Silica Surface as studied by variable temperature high resolution 1H NMR. J. Am. Chem. Soc. 1993. 115(15): 6786. https://doi.org/10.1021/ja00068a041
13. Gun'ko V.M., Turov V.V. Nuclear Magnetic Resonance Studies of Interfacial Phenomena. (New York: Taylor & Francis, 2013). https://doi.org/10.1201/b14202
14. Petrov O.V., Furo I. NMR cryoporometry: Principles, application and potential. Prog. Nucl. Magn. Reson. Spectrosc. 2009. 54(2): 97. https://doi.org/10.1016/j.pnmrs.2008.06.001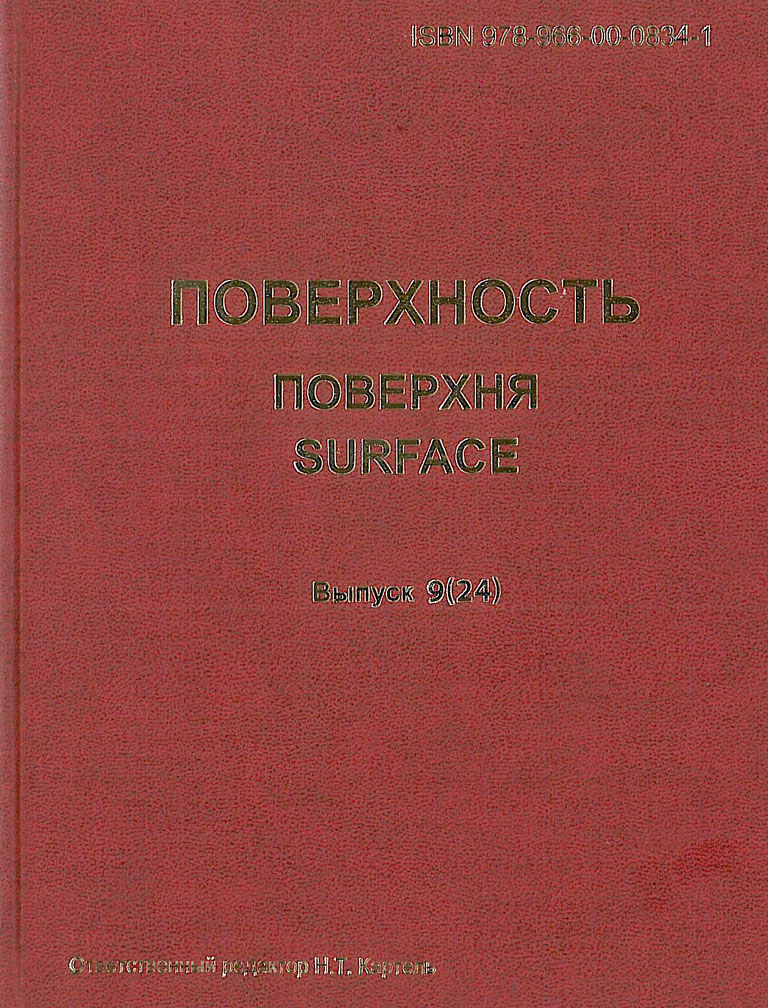 How to Cite
Jankauskiene, Y., Zalatorius, V., Starkute, R., Bundineene, O., Krupskaya, T. V., Golovan, A. P., Turov, V. V., Jovaisas, P., & Bieliauskiene, R. (2017). Nanocomposite systems on the basis of nanosilicas for germination some types of vegetable crops. Surface, (9(24), 199-210. https://doi.org/10.15407/Surface.2017.09.199
Section
Medical and biological problems of surface